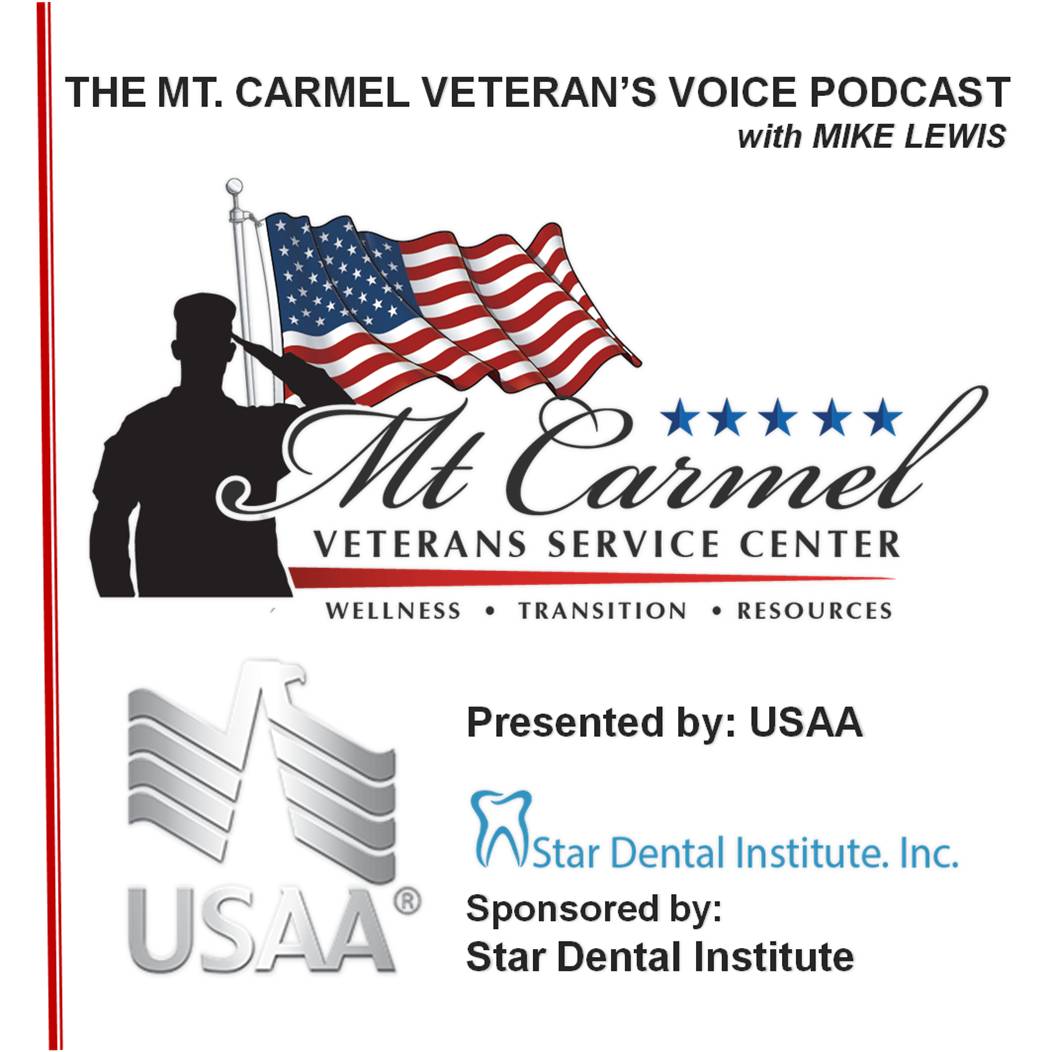 In this edition of Veteran's Voice with Mike Lewis:
Partners on Point
Medicare-eligible veterans are faced with difficult decisions about healthcare. The Medicare Mentors, Retired Army Lt. Col Rich Lewis and Partner Pam Behrendt – partners at Mt. Carmel – provide free assistance in considering options. Get free advice twice a week if you're Medicare-eligible members of the Veteran Community at Mt. Carmel, Tuesdays 1-5 pm & Thursdays 10am–2 pm; Appointments at 772-7000
Featured Spotlight
Kristi Smith, U.S. Marine Veteran, UCCS Class of 2018 Graduate and Mt. Carmel Client. 
She is a former Marine & Colorado Army National Guardsman; experienced in applying personal networks to accomplish goals; driven to win-win solutions; just completed UCCS Communications Degree; skilled in American Sign Language; active job seeker; pursuing: Work with diverse groups, mentoring youth, achieving positive social change.
Mt. Carmel helped her navigate a major career change; meet a variety of transition needs.
Happenings
If you missed the Big Job Fair w/190 employers yesterday…and I hope not…three important events are ahead – and Mt. Carmel can help you prepare:
Rocky Mountain Regional VA Medical Center – Today:
Previously advertised everywhere, but *Happening Today – Saturday Oct 27* from 8 am-4 p.m at the Rocky Mountain Regional VA Medical Center, Denver: Same Day interviews at their ongoing job fair – 11 different career fields being recruited in medical and support areas. More info at: usajobs.gov Event is at 1700 North Wheeling Street in Aurora, Colo. – today – Oct 27 until 4 p.m.
DAV Veterans Career Fair: Nov 1, 11 am-3 pm, at the U.S. Olympic Training Center:
Led by national military recruiting firm, RecruitMilitary, event is open to anyone who has served on active duty, the National Guard, the Reserves and spouses. Fifty-two employers attending – all listed online at:http://recruitmilitary.com/ColoradoSprings. 
*Make sure you're doing your job fair follow-up – professional thank-you's, LinkedIn connections and emails after the job fair – Mt. Carmel can help show you how also!
They Served, We Give Celebration on Nov 1: The community is invited to Celebrate & Honor Veterans at a reception at Mt. Carmel, Nov 1, 5-7 pm. Food, beverages, entertainment and silent auction. Bring your friends – we're celebrating Veterans!
Colo Springs Military Spouse Hiring Reception: Nov 6, 5-7 p.m. at Penrose House Conference Center - Networks & interact directly with HR experts & hiring managers from local & national companies; Get resume assistance & a LinkedIn photos! Pre-Register through the Hiring Our Heroes webpage – More details are on the Mt. Carmel FB, Instagram & Twitter.
Mt. Carmel Peer Navigators networking event Nov 8, 5-7 pm - Specifically for Veterans, Military Spouses and transitioning military members! Expand your professional job search network and practice your elevator pitch with local employers, community partners and others. Free snacks and beverages at Red Leg Brewing Company, 4630 Forge Road.
Trauma Informed Care Training Nov 15– In partnership with Griffith Centers, Mt. Carmel offers no-cost Trauma-informed Care training for those who have experienced trauma or have a loved one who has experienced trauma. Training helps to increase understanding regarding trauma, and how trauma impacts the brain and behaviors.  Class is Nov 15, noon to 3 p.m. at Mt. Carmel. Call 772-7000 to reserve your spot.
Excited to be part of Indy Gives 2018!
An incredible opportunity for the community to show support
We are a non-profit organization
Community support is crucial to all of our programs
Mt. Carmel Veterans Service provides career and transition assistance, behavioral health and wellness, supportive services, connection to community resources, and safe event space for veterans, military members and their families.
Our non-profit has directly impacted more than 4,200 unique clients in the Pikes Peak region through more than 20,000 client visits since 2016.
Please visit: indygive.com to learn more!
For information and event registration for these and more:
Online: Veteranscenter.org – check out the calendar – events & services every day/every weekend for veterans, military & their families!
Call us at: (719) 772-7000
Visit in person: 530 Communication Circle (Off 8th Street)
Follow on social media: Facebook, Instagram, Twitter, LinkedIn, YouTube